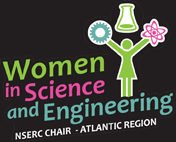 On Friday May 2, 2014 a one-day science, engineering, math, and technology camp was held at UPEI.  Fifty-five girls in grades 7-9 from across PEI particpated in hands-on science activities and careers in the hopes that they can make informed decisions about subject choices in later school years.
Girls participated in an international community development engineering project, practiced programming skills, built a solar panel, and performed chemical experiments. They also met female role models who are working in the science, technology, engineering, and math fields.
The event was hosted by WISE Atlantic, IslandWISE (Women in Science and Engineering), Engineers PEI, and ITAP (Innovation Technology Association of PEI).

Date of Event:
Friday, May 2, 2014 - 00:00